12.8V 12Ah LiFePO4 Battery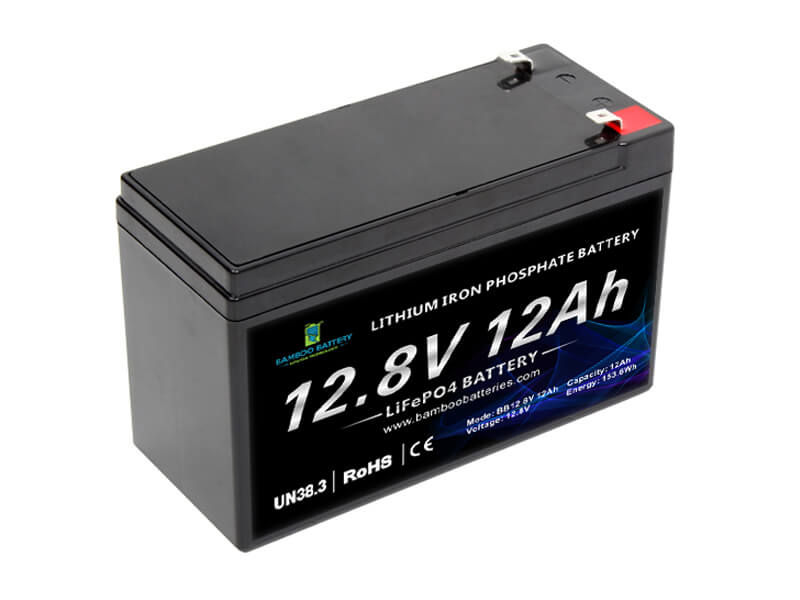 BAMBOO 12.8V 12Ah lithium iron phosphate battery is used for e-bikes, e-scooters, solar, electronics, energy storage, and many other applications. The battery has a built-in BMS ( battery management system) which provides complete protection and balancing of the cells in the battery.
We believe you will be impressed with the quality of our lithium batteries.
Over 2000 cycles life at 100% DOD
Saving 50-70% weight
Maintenance free
Less than 3%/month self discharging
100% usable capacity
Wider Temperature Range: -20 to 60 ℃
Over-charging, over-discharging, over-current protection
High temperature, short circuit protectionhosphate chemistry eliminates the risk of explosion or combustion
| 12.8V 12Ah | F2 |
| --- | --- |
| Nominal Voltage | 12.8V |
| Nominal Capacity | 12Ah |
| Energy | 153.6Wh |
| Internal Resistance | ≤130mΩ |
| Cycle Life | >2000 cycles @100%DOD |
| Limited Charge Voltage | 14.6±0.2V |
| Charge Method | CC/CV |
| Standard Charge Current | 0.2C |
| Max Charge Current | ≤1C |
| Discharge Cut-off Voltage | 10.0V |
| Max. Continuous Discharge Current | 12A |
| Dimension | 151*99*96mm |
| Weight | 1.64Kg |
| Case Material | ABS |
| Charge Temperature Range | 0~45℃ |
| Discharge Temperature Range |  -20~60℃ |
| Self-Discharge Rate |  ≤3%/month |
| Recommended storage temperature | 15~35℃ |
| Recommended storage humidity | 45%RH~75%RH |